| | |
| --- | --- |
| | Given to you by the Grey Mourner in the Resting Grounds. She has asked you to place it at the grave of her mantis lover in the Queen's Gardens. The flower is very fragile and will be destroyed if you take damage or ride the Stagways. |
| | Given to you by the Grey Mourner in the Resting Grounds. It has been destroyed and is now worthless as an object of sentiment. |

Uses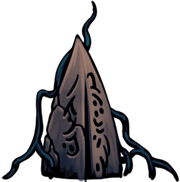 Given by the Grey Mourner, to be delivered onto the grave of the Traitor's Child in Queen's Gardens. Successfully completing this quest rewards a Mask Shard.
List of Triggers
Trivia
If the player gives the flower to the Elderbug, he comments on the flower and how he appreciates that he's finally being given attention; however, apart from a few lines of dialogue, this does not have any effects and the player must get another flower from the Mourner to complete the quest.
Blocking a hit with Baldur Shell equipped does not destroy the Delicate Flower.
The player can not ride the stagways without breaking the flower, but may ride the trams without such happening.