The far eastern part of Hallownest, constantly snowing with white ash from a massive deceased Wyrm. Bodies from the Colosseum of Fools fall from above into the acid pits below. In the far southeastern part of the area is a deep pit that leads to the largest Geo deposit in the game.
---
Points of Interest
Inhabitants
 Sub-area: Cast-Off Shell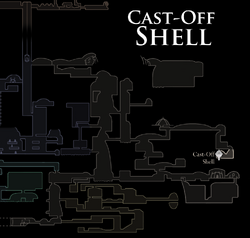 The shell of a massive Wyrm, whose decaying corpse flakes off into white ash that blankets Kingdom's Edge like snow. This is where Hornet is fought and the King's Brand is found.
---
Points of Interest: